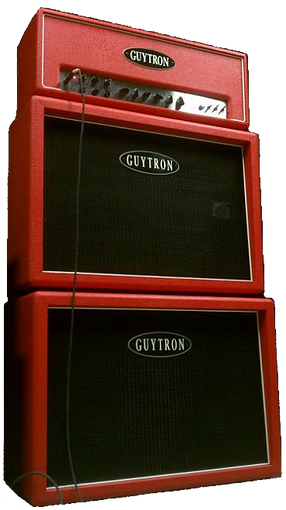 Designed for the working musician at any level or in any size room, the GT100, and more recently the GT100-FV endeavors to eliminate the need for a "library" of different vintage amps, as well as the guess work of which one to use for a given club or band site. It has been our (and probably your) experience that nothing beats the sound of a cranked up vintage tube amp. The Focus and Voicing switches further add to the versatility by allowing the player to take the tone further in every direction. In response to customer requests, the FV also includes the ability to control the compression envelope of the EL84 tubes in the pre-amp.
Once you've owned and used most of the highly desirable and collected vintage tube amps long enough to get sick of carrying them, repairing them, and/or dealing with their limitations; you would likely discover that there are enough tonal similarities between them, that it just might be possible to design an 'everything amp'. Basically, it would have to be an amp that would hit on all the essential tones you might need during any given night.
Simply include everything you truly need, and exclude everything that you don't really need. Then throw in a few dream features like a master volume control that actually works, with a pre-amp section that actually sounds and acts like a cranked amp at any volume, and usable channel switching that doesn't require tonal adjustment when you switch channels. Add a studio grade, transformer driven series-parallel effects loop capable of running anything from vintage pedals to 'state of the art' rack effects. The result would be the GT100-FV.
All of the sounds from the GT100-FV are available with an absolute minimum of knob turning and tweaking. The amp is a true marriage between old trusted tones and new proven technology and application. Every knob or switch is necessary to address a real musical or functional need, and even these are kept to a minimum for simple operation, a minimum of "back turned to the audience" time, and a maximum of musical enjoyment.
All Guytron products are designed from a reliability and usability standpoint. Over built to the hilt, and with great attention to detail, the GT100-FV design incorporates hand wound, paper bobbin, interleaved transformers, metal shaft pots, and top of the line "over spec" components throughout. The printed circuit boards are made from the finest FR4 mil-spec material, thru plated, and coated. This is done for maximum reliability. All components are selected with equal importance laid on tone, durability, and continued availability. As a result, our amps sound more consistent, with the primary variable being choice of tubes.
Channel switching is done with ultra fast gold plated relays, and the circuit board is laid out for lowest crosstalk and signal degradation. The electronic components are all over specifications by as much as 50%, therefore the likelihood of anything serious breaking down is kept to an absolute minimum.